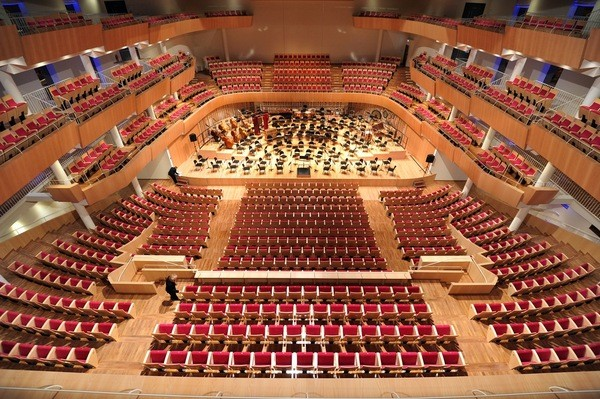 With L'Heure espagnole, Ravel gave one of his first live music accents resolutely joyful .
This one-act opera will be given on December 1st and 2nd 2016 at the l'Auditorium de Bordeaux (picture / ©Pierre Andrieu/AFP).
Florian Sempey will lend his voice to Ramiro, muleteer, who will help Concepción and who will possibly worth her to become her lover before the return of Torquemada, her watchmaker husband? Emiliano Gonzalez Toro will interpret Torquemada who, leaving his shop, can not suspect that his wife is doing everything possible to make him cuckold during his absence.
After making his debuts at the Opéra national de Paris, with the role of Lenia (Cavalli's Eliogabalo), Emiliano Gonzalez Toro will be next March Eurimaco (Il Ritorno d'Ulisse in Patria) at the Théâtre des Champs-Elysées and at the Opéra de Dijon.

Before this concert at Bordeaux, Florian Sempey made his debuts at the Royal Opera House / Convent Garden (Figaro / Il Barbiere di Siviglia) and at the Opéra de Marseille (Cecil / Maria Stuarda). Soon, he will sing again at the Opéra national de Paris as Papageno (Die Zauberflöte) and will be Dandini (La Cenerentola) for the first time at the Opéra de Limoges.